Event Description:
A panel of 4 women speaking about how to promote wellness with biophilia in wellness
centres, long term care, Dementia and Alzheimer's homes, hospitals, hospice, retirement
homes as well as other types of workplaces and the home. How to improve our environment
during a pandemic makes this panel a timely discussion on how to make our lives less
stressful and more enjoyable through our indoor environment by way of colour selections,
functional layout, wayfinding and materiality.
Speakers:
Jennifer Huynh | CannonDesign
Inspired by her mother's journey with breast cancer, Jennifer's passion lies in the
research behind the power of using natural elements in healthcare spaces to reduce
stress and improve health outcomes of patients, staff and family members. Jennifer has
worked in architecture firms in Toronto, Kitchener, Vancouver and Amsterdam, and spent
an academic term in Rome, Italy. Jennifer is a licensed Architect, is EDAC certified
(Evidence-Based Design Accreditation and Certification) and currently sits on the Board
of Directors for the Greater Toronto Chapter for Women in Healthcare.
Joy Birch | Highview Residences
Joy has built her career on the belief that dedication and a desire to have a positive
impact on the world can lead to remarkable things – especially when you lead with Love.
As Chief Operating Officer of Highview Residences in Kitchener and London, Joy leads
an exceptional team who supports people with dementia in living as independently as
possible, for as long as possible. Throughout her 27-year career Joy has been an agent-
for-change in areas encompassing operations, marketing, human resources, and
management, was Vice President at agencies including DDB Toronto and Young and
Rubicam, taught at George Brown College, and led the London Children's Museum as
Executive Director.
Sperry Bilyea | Wallumination
For over 25+ years, Sperry has worked in health-based companies, including Cerner and
NaviMedix. In these roles, she saw firsthand the impact of focused wellness in large
medical centers across Canada and the US. Having these experiences developed her
profound belief that a focused multi-faceted approach to wellness improves overall
wellbeing in both a business and therapeutic setting. As Director of Corporate Wellness at
Highpoint Wellness Center, Sperry worked with organizations such as Bell Canada,
Canada Post, General Mills, and health and safety associations to implement wellness
programs into work environments. Working with these companies and her lifelong passion
of nature and design inspired Sperry, to learn about Biophilic Design as a mechanism to improve overall wellbeing. As CEO of Wallumination, their beautiful sustainable artboxes are designed to bring the tranquillity and beauty of the natural world to every space.
Andrea Bonotto | Architect
Andrea is an interior architect and urban planner with an MBA in Management from Brazil.
Throughout her career, she has been dedicated to doing research in multidisciplinary
areas including the influence of the built environment on occupants and the factors that
impact a person´s well-being. Currently, she is specializing in creating meaningful and
healthier spaces by improving the human connection to nature and wellness practices.
Her expertise is to help people to co-create spaces and homes that reflect people's authentic sense of self.
Karima Kanani | Miller Thomson LLP – Moderator
Karima is a lawyer and Partner at Miller Thomson LLP. She is one the Firm's top health
industry specialists working with public healthcare organizations and private companies
supporting and servicing the healthcare industry. Karima is a leading advisor and speaker
on health system transformation and a published author on the intersection of law and the
provision of social services.
Sponsors:
Quasar Consulting Group
HDR
Hanscomb Quantity Surveyors
Interface
Mondo Contract Flooring
Spec
Parkin Architects Limited 
JmF Technical Documentation Solutions
Willis
CannonDesign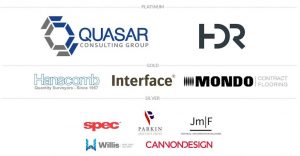 Video Content
You must be a Women in Healthcare Member and logged in to view this content.
You must login to view this content.